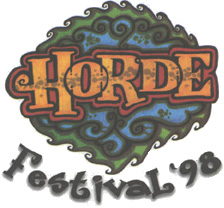 In what was to be the swan song of the H.O.R.D.E. Festival, the organizers made a concerted effort to broaden the appeal of the talent while remaining true to its original concept of bands that put on a good live show. With this in mind, the announcement came early in January that Barenaked Ladies and Ben Harper and the Innocent Criminals had signed on as headliners for the full tour. The former band had enjoyed popularity north of the border in their homeland of Canada for years, but had not made much of a touring dent in the United States beyond the northern states. As they had done with Sheryl Crow, Joan Osborne and Dave Matthews Band before, H.O.R.D.E. introduced a talent to the masses that would soon explode into popularity.

Also joining the bill were longtime friends Gov't Mule, recently officially separated from the Allman Brothers Band. The Battle of the Bands extended its reach to every stop on the tour, providing an opening slot in every city to a deserving local band. Several of these are now opening for larger acts across the country, including Ray's Music Exchange, Conehead Buddha and Average Joe. The tour got a big boost in the central states when Billy Corgan came through on a promise to John Popper made at the 1997 Bridge School Benefit and signed Smashing Pumpkins on for five dates. Several other bands not fitting the "jam band" mold joined on as well, including Cherry Poppin' Daddies, the Mighty Mighty Bosstones [though future date conflicts would cancel their appearances] and King Norris, fronted by Howard Stern writer Fred Norris. Again, an official site was hosted at http://www.hordefestival.com; while this site is defunct, Dave Mallick's H.O.R.D.E. news page has a history of the news as it broke and much not mentioned here.

The tour itself was not without a few hitches and interesting developments - H.O.R.D.E. went international with a date in Toronto, and it reached several states it had never played before, including Idaho among others. The original starting date, July 9th at Harriet Island in Minnesota, ended up being canceled due to a combination of poor ticket sales and a lack of preparation on the venue's part. An overzealous video cameraman led to all taping being disallowed for half of the show at Concord Pavilion on August 29th, but the issue was resolved before taping was endangered for the remainder of the tour. The experimental third stage, which had hosted occasional impromptu jams and acoustic sets from Neil Young in 1997, became a full-blown feature at every show, hosted by Spin Doctors lead singer Chris Barron. This stage featured the collaborative spirit of HORDE, as jams would include anywhere from two to fifteen people onstage at once, jamming out on blues standards or on nothing in particular. And even as disaster struck Florida in the visage of raging wildfires, H.O.R.D.E. managed to find the silver lining and donate all proceeds of their date at Live Oak's Suwanee Music Park on August 19th to disaster relief funding.

At the last show on September 5th, John Popper upheld a long-standing tradition of sitting in with every band, amounting to seven hours of running around and playing harmonica. With the final stop at Portland Meadows, the curtain fell on H.O.R.D.E. for the last time, and the end of an era was at hand.
The Music:

Headliners


Blues Traveler
Barenaked Ladies
Ben Harper & The Innocent Criminals
Alana Davis

Other talent


Agents of Good Roots (08/09-08/19)
Alisia Carroll (07/21-07/22)
Bare Jr. (07/14-07/17)
Box Set (08/27)
Bran Van 3000 (08/25-09/05)
Catatonia (07/30-08/09)
Cherry Poppin' Daddies (08/20-08/23)
Chris Stills (07/18-07/28)
Col. Bruce Hampton and Fiji Mariners (08/08-08/23)
Coolbone (07/11-07/12)
Cowboy Mouth (08/18-08/23)
David Garza (07/09-07/17)
Derek Trucks (08/12-08/16)
Dowdy Smack (08/11-08/12)
Emmet Swimming (07/09-07/14)
Fastball (08/14-09/05)
The Fool (07/26)
Getaway People (07/31-08/04)
Galactic (08/28-09/05)
Gov't Mule (07/09-08/05)
Guster (08/28-09/05)
Huffamoose (07/15-07/19)
King Norris (07/31, 08/08)
Leroy (08/07)
Marcy Playground (07/21-08/02)
Michael Parrish Band (07/09-07/10)
New Orleans Klezmer All Stars (07/24-07/25)
Pat McGee Band (08/15 and more)
Paula Cole (07/11-07/12, 07/24-08/24)
Rene Lopez (08/05 and more)
Robert Bradley's Blackwater Surprise (08/05-09/05)
Smashing Pumpkins (07/09, 07/14-15, 07/21-22)
To the Moon Alice (08/07)
Underdogs (08/27)

Battle of the Bands winners


Honey Wagon (Minneapolis, MN) (07/09)
Ditch Pig (Milwaukee, WI) (07/10)
Strain Busy Sky (Chicago, IL) (07/11, 07/24)
Jonny Mosh (Columbia, MO) (07/12)
Danger Bob (Lawrence, KS) (07/14)
Steamroller (Austin, TX) (07/15)
Homunculus (Bloomington, IN) (07/17)
Surfin Pluto (Detroit, MI) (07/18-07/19)
Third Wish (Cleveland, OH) (07/21)
Ray's Music Exchange (Cincinnati, OH) (07/22)
PUSH (Pittsburgh, PA) (07/25)
Jiggle the Handle (Boston, MA) (07/30)
Decadent Royals (Saratoga Springs, NY) (08/02)
Smoke the Prophet (New Haven, CT) (08/04)
Conehead Buddha (New York, NY) (08/05)
Johny Vegas (Buffalo, NY) (08/07)
Fathead (Philadelphia, PA) (08/08)
Average Joe (Orlando, FL) (08/11)
Urban Grind (Atlanta, GA) (08/16)
Calico (Los Angeles, CA) (08/27)
Honey Child (Tempe, AZ) (09/02)
The Undulating Band (Dallas, TX)
Blew Willie (San Francisco, CA)
Moses Guest (Houston, TX)
Napier's Bones (Seattle, WA)
Chola (Salt Lake City, UT)
Emma Gibbs Band (Raleigh, NC)
Kerosene Dream (Portland, OR)
Dead Girls and Other Stories (Washington, DC)
Rudy (Ft. Lauderdale, FL)

The memorabilia:


Promotional CD: This CD was released for every migration of the H.O.R.D.E. between 1993 and 1998. The track listing can be seen here.

Ticket Stubs:

Posters: Backstage passes:

The shows:


7/10/98 Alpine Valley, East Troy, WI (H.O.R.D.E.)
7/11/98 World Music Theater, Tinley Park, IL (H.O.R.D.E.)
7/12/98 Riverport Amphitheater, Maryland Heights, MO (H.O.R.D.E.)
7/14/98 Sandstone Amphitheater, Bonner Springs, KS (H.O.R.D.E.)
7/15/98 All Sports Stadium, Oklahoma City, OK (H.O.R.D.E.)
7/17/98 Deer Creek, Noblesville, IN (H.O.R.D.E)
7/18/98 Pine Knob, Clarkston, MI (H.O.R.D.E)
7/19/98 Pine Knob, Clarkston, MI (H.O.R.D.E)
7/21/98 Blossom Music Center, Cuyahoga Falls, OH (H.O.R.D.E.)
7/22/98 Riverbend Amphitheater, Cincinnati, OH (H.O.R.D.E.)
7/24/98 Polaris Amphitheather, Columbus, OH (H.O.R.D.E.)
7/25/98 Starlake Amphitheater, Burgettstown, PA (H.O.R.D.E.)
7/26/98 Finger Lakes Performing Arts Center, Canandaigua, NY (H.O.R.D.E.)
7/28/98 Molson Stadium, Toronto, ONT (H.O.R.D.E.)
7/30/98 Great Woods, Mansfield, MA (H.O.R.D.E.)
7/31/98 PNC Bank Arts Center, Holmdel, NJ (H.O.R.D.E.)
8/1/98 Montage Mountain, Scranton, PA (H.O.R.D.E.)
8/2/98 Saratoga Performing Arts Center, Saratoga Springs, NY (H.O.R.D.E)
8/4/98 Meadows Music Center, Hartford, CT (H.O.R.D.E.)
8/5/98 Jones Beach, Wantagh, NY (H.O.R.D.E.)
8/7/98 Darien Lake PAC, Darien Center, NY (H.O.R.D.E.)
8/8/98 Blockbuster E-Center, Camden, NJ (H.O.R.D.E.)
8/9/98 Nissan Pavilion, Bristow, VA (H.O.R.D.E.)
8/11/98 Virginia Beach Amphitheater, Virginia Beach, VA (H.O.R.D.E.)
8/12/98 Walnut Creek Amphitheater, Raleigh, NC (H.O.R.D.E.)
8/14/98 Starwood Amphitheater, Antioch, TN (H.O.R.D.E.)
8/15/98 Blockbuster Pavilion, Charlotte, NC (H.O.R.D.E.)
8/16/98 Lakewood Amphitheater, Atlanta, GA (H.O.R.D.E.)
8/18/98 Coral Sky Amphitheater, West Palm Beach, FL (H.O.R.D.E.)
8/19/98 Suwanee River Park, Live Oak, FL (H.O.R.D.E.)
8/20/98 Oak Mountain Amphitheater, Birmingham, AL (H.O.R.D.E.)
8/22/98 Southpark Meadows, Austin, TX (H.O.R.D.E.)
8/23/98 Starplex Amphitheater, Dallas, TX (H.O.R.D.E.)
8/25/98 Desert Sky Pavilion, Phoenix, AZ (H.O.R.D.E.)
8/28/98 Shoreline Amphitheater, Mountain View, CA (H.O.R.D.E.)
8/29/98 Concord Pavilion, Concord, CA (H.O.R.D.E.)
9/4/98 The Gorge, George, WA (H.O.R.D.E.)
9/5/98 Portland Meadows, Portland, OR (H.O.R.D.E.)