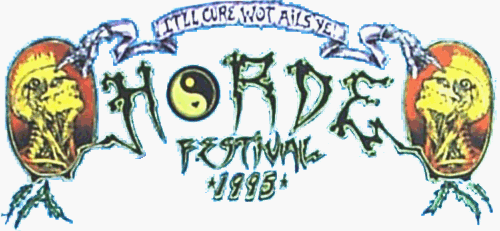 Having firmly established themselves across the US in the previous three years, Blues Traveler jumped at the opportunity to play with the Canadian version of H.O.R.D.E., called Another Roadside Attraction. This took up most of July, so the fourth migration of the Great American H.O.R.D.E. did not kick off until the first week of August.
The first controversies began to brew with the addition of the Black Crowes to the bill. The impending release of Hempilation sparked a surprisingly sizeable backlash against the Crowes and several other bands appearing on the compilation, which included the tour's host, Blues Traveler, as well as co-headliners Ziggy Marley and the Melody Makers; past H.O.R.D.E. artists the Screamin' Cheetah Wheelies, Widespread Panic; and two future H.O.R.D.E. bands, 311 and Gov't Mule. An additional fiasco at Stanhope, NJ's Waterloo Village saw protests of both NORML and Planned Parenthood. Longtime Blues Traveler scribe Cree McCree wrote in High Times in 1995:
A coalition of state officials and antidrug activists had attempted to halt the concert in court, citing the headliners' participation in the NORML benefit album, Hempilation, as proof of their alleged "mission to glorify drug use in a state park."
The show went on and both H.O.R.D.E. and Blues Traveler vowed never to play the venue again. Among the year's discoveries was an old friend from New York City, a blues-pop singer by the name of Joan Osborne. The tour landed artists new and old, ranging from blues legend Taj Mahal to the recently-signed jazz trio Medeski, Martin and Wood, but tended to skew more toward the younger crowd. This tendency would not last long in the years to come, but the profit of this year's tour encouraged more and more names to join on, even if programs couldn't spell them right. John Medeski's name was alternately spelled Modeski or Madeski on programs, posters and other paraphernalia. Also, for the first time this year, an official web site popped up as the World Wide Web and the Internet gained popularity. That site has disappeared, but the first fan site was preserved thanks to Bruce Willner, one of the early maintainers of the HORDE mailing list.
The Music:

Headliners

The Black Crowes
Blues Traveler
Ziggy Marley and the Melody Makers
G-Love & Special Sauce
Taj Mahal
Dave Matthews Band
Sheryl Crow

Non-headliners/Special guests

Aquarium Rescue Unit
Cycomotogoat
God Street Wine
Fiji Mariners
Joan Osborne
Medeski, Martin, & Wood
Mojo'son
Chris Whitley
G'nu Fuz
Nubian Sojuh's
Wilco
Dionne Farris
Morphine
Red Thunder
The Rembrandts
Mother Hips
The Urban Shakedancers
Jono Manson

The memorabilia:


Promotional CD: This CD was released for every migration of the H.O.R.D.E. between 1993 and 1998. The track listing can be seen here.

Ticket Stubs:

Posters: Backstage passes:

The shows:

08/03/95 Riverport Amphitheatre, Maryland Heights, MO
08/04/95 Deer Creek Music Center, Noblesville, IN
08/05/95 Star Lake Amphitheatre, Burgettstown, PA
08/06/95 Polaris Amphitheatre, Columbus, OH
08/08/95 Jones Beach Amphitheatre, Wantagh, NY
08/10/95 Seashore Performing Arts Center, Old Orchard Beach, ME
08/11/95 Waterloo Village, Stanhope, NJ
08/12/95 Great Woods Performing Arts Center, Mansfield, MA
08/13/95 Saratoga Performing Arts Center, Saratoga Springs, NY
08/15/95 Meadows Music Centre, Hartford, CT
08/17/95 Riverbend Music Center, Cincinnati, OH
08/18/95 World Music Theatre, Tinley Park, IL
08/19/95 Marcus Amphitheatre, Milwaukee, WI
08/20/95 Pine Knob Music Center, Clarkston, MI
08/22/95 River's Edge, Somerset, WI
08/24/95 Mann Center for the Performing Arts, Philadelphia, PA
08/25/95 Nissan Pavilion at Stoneridge, Bristow, VA
08/26/95 Walnut Creek Amphitheatre, Raleigh, NC
08/27/95 Lakewood Amphitheatre, Atlanta, GA
08/30/95 Starplex Amphitheatre, Dallas, TX
08/31/95 South Park Meadows, Austin, TX
09/02/95 CSUDH Velodrome, Carson, CA
09/03/95 Shoreline Amphitheatre, Mountain View, CA